Discover more from Off Message
Because vigorous internal debate isn't a weakness—it's essential.
Over 21,000 subscribers
Joe Biden Is A Better Dresser Than Donald Trump
A bold truth the mainstream media won't tell you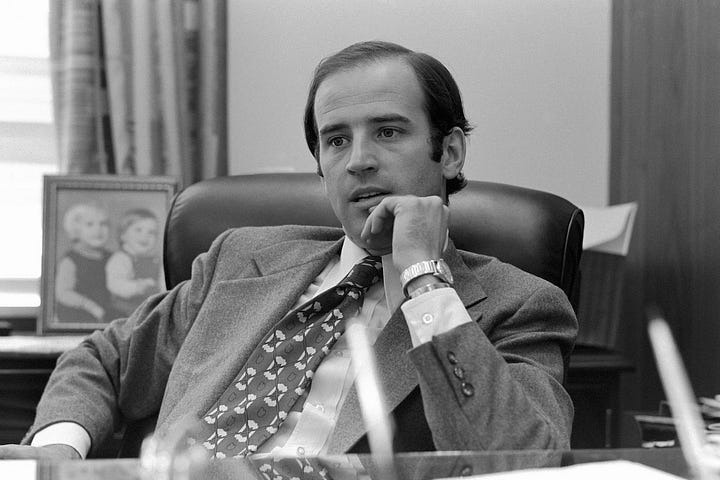 Joe Biden had little reason to feel playful. Under the best of circumstances, playfulness requires a level of agility most 80 year old men have long since lost to age, and most of them don't have the added burden of a world coming apart on their shoulders.
The president was en route to Illinois to celebrate a collective-bargaining victory, which union auto worker had won with Mr. Biden's support after a six week strike. It was a signal moment in his presidency, and a bright signpost along his party's path back to the labor-liberal politics of its heyday—now over 50 years ago. 
Nobody in Washington seemed to notice. After questioning the political wisdom of Mr. Biden's alliance with the autoworkers, and giving his rival—disgraced former president Donald Trump—false credit for supporting the strikers as well, the reporters and pundits moved on. With the recrudescence of war in the Middle East and a new batch of horse-race polls to chew over, the press corps largely ignored the fact that most consequential labor action in decades had paid off as intended, and that the president had helped tens of thousands of blue-collar workers secure a significant, overdue pay increase in their new contract. 
But with all the reason in the world to be distracted and bitter, Mr. Biden emerged nimble-footed from the White House Thursday morning. As he walked along the drive toward a gaggle of reporters awaiting him on the south lawn, he noticed an array of boom mics and pretended to flinch. And as he feigned surprise something unusual became apparent: The president of the United States, for the first time in decades, is a natty dresser.
It wasn't always so. Prior to his presidency, and particularly through middle-age, Mr. Biden made many of the same befuddling sartorial choices that have earned Washington politicians—at least the male ones—a reputation for schlubbery: ill-fitting sport coats, ties that hang crooked, cuffed pants that break twice over, swallowing the boring penny loafers beneath them.
The president, who faces zero criminal indictments, nor any civil liability for business fraud, was a middle-of-the-road senator ideologically, temperamentally, and stylistically. His occasional bombast and toothy grin clashed with his dull attire. He did not steal the spotlight as Barack Obama's vice president, and during the Trump years was fairly invisible, until he re-emerged as a presidential candidate wearing billowy striped shirtsleeves in the stifling Philadelphia heat.
Mr. Biden wasn't the worst-dressed Democratic candidate, but he wasn't the best either. Among the men in the 2020 primary, the award for style went to Beto O'Rourke, but only Kamala Harris and Elizabeth Warren put any real thought into their wardrobes. And when the field dwindled to Mr. Biden and Bernie Sanders, the rumpled democratic socialist from Vermont was ironically the more memorably dressed of the two. He may have resembled an absent-minded professor to the point of cliche, but at least it was a look. 
Then Mr. Biden defeated Mr. Trump and everything changed. As the New York Times would observe 100 days into his presidency, "Mr. Biden won [a]nd almost immediately his attire shifted."
Suddenly his suits were, "impeccably tailored," the menswear designer Todd Snyder observed. "Where a lot of men typically go too big, Biden is a good example of exactly how a suit should be worn."
That, mystifyingly enough, is a departure. Most U.S. presidents have chosen to wear boxy, Brooks Brothers-style menswear in lieu of slim-cut or form-fitting attire. The Bidens are said to prefer Ralph Lauren clothing, modified to their specifications by a local tailor in Delaware. The step-up in Mr. Biden's fashion game was conspicuous enough to raise the question of whether his wife, Dr. Jill Biden, had a hand in updating his wardrobe, or at least in teaching him how to fold the multi-peaked pocket squares he now flashes more than occasionally.
The first lady has a unique fashion sense of her own: classy with a little daring, much like the last elegant first lady, Michelle Obama, who never  once sported outerwear as an expression of indifference to imprisoned migrant families.
There's a secret known to all the fashion-magazine editors and internet influencers who construct our collective sense of what's hip, and who dresses well, but they can't tell you or it'd spoil the mystique.
The secret is this: Fashion is 90 percent fit. Selecting clothes that are neither too big nor too small, modifying them as necessary to match body type, is usually enough to overwhelm all secondary considerations: Is the designer au courant, or are the colors and accents en vogue? Are the lapels notched or peaked? Narrow or wide? Is the fabric bright or navy blue? Is the coat one- two- or three-buttoned? Double breasted? You can answer all of those questions incorrectly, and still look good if clothing itself hangs on the body well. The real faux pas is wearing clothes that are the wrong size.  
That insight is so foreign to Mr. Trump that if it were a person, he'd have it deported. 
Off Message is a publication of insouciance and elan. Consider becoming a subscriber.
Mr. Trump, who faces nearly 100 felony charges in four state and federal jurisdictions and commemorated Veterans Day by declaring his domestic political opponents "vermin," appears to tailor his clothing not for fit or fashion but to obscure his uncannily spherical midsection. 
The tell is in the tie. Why does the tip of Mr. Trump's tie always hang so far below his belt line? Others have speculated that the vainglorious-but-insecure former president believes a longer tie is inherently slimming. 
I believe this is mistaken. Body image clearly has something to do with it, but Mr. Trump wears ties down to his zipper because that's the correct length for his oversized coats, not for his actual body. Mr. Trump appears to select coats with excessively wide shoulders, so that he can comfortably button them without drawing attention to his gut. This creates a tapered, masculine look if and only if viewed from the chest up. As he prepared to deliver testimony earlier this month in a case that may shutter his eponymous business empire, Mr. Trump sat hunched behind the defense table, and appeared, deceptively, to be a well dressed older man in his own right. 
A fuller picture exposes the misdirection.
By contrast, the current president—who has never artificially deflated the value of his assets to avoid taxation, or overvalued them to defraud lenders—is dapper on full view and comfortable in both fabric and skin.
Mr. Biden isn't just a better dresser than his immediate predecessor. He's better dressed than every president since John F. Kennedy. His haberdashery isn't quite European the way his Canadian and French counterparts' wardrobes are. But for a man nearly twice their age, that is appropriate and expected. 
A bit more surprising: Mr. Biden is a better dresser than his former, and generally cooler boss, Barack Obama. Any criticism of Mr. Obama's fashion sensibility invariably calls to mind the manufactured outrage over the tan suit he wore one time to the White House briefing room. But the real problem with that suit wasn't its color or casualness—like most of Obama's suits, the cut was all wrong! 
It wasn't atrociously and intentionally ill-fitting like Mr. Trump's suits. But Mr. Obama, perhaps in an effort to avoid being dismissed as a Francophile or a fop, never dressed for his body type. The 44th president, tall and slender with a sauntering gait, could have easily assembled a wardrobe full of tapered formal and semi-formal wear, but preferred to dress like a Republican.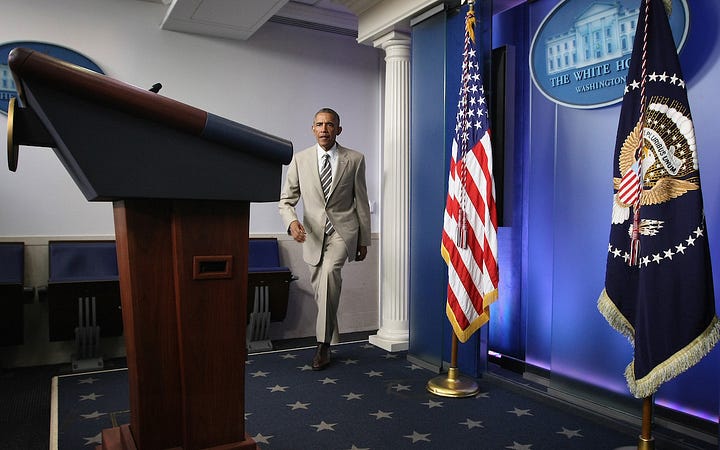 When George W. Bush dressed like a Republican, it was on brand. It would've been strange for him to dress fashionably, or anything but forgettably. Bill Clinton seems like the kind of guy who as president would've taken pride in his appearance, but the archives tell a different story. Perhaps he was trying to shake his playboy image, perhaps he was a victim of his time—the less said about '90s fashion, the better. 
Jimmy Carter's presidency was so unfairly synonymous with drabness and "malaise" that it became impossible to think of him as a haute gentleman. And he was not one.
No, the last president who dressed as impeccably as Mr. Biden pulled it off with all the advantages that should make Mr. Trump a better dresser. JFK enjoyed inherited wealth, Ivy League pedigree, and celebrity status. And youth. It wouldn't have been called Camelot if he were a septuagenarian, or wore his father's suits. 
Mr. Biden has achieved Kennedy chic without any of that heritage, and without youth. He's succeeded (at looking fly) where nearly every other modern president has failed. And he's done so without abandoning his roots, or commitment to our collective right to dignified labor. Single-issue working-class voters will have an easy choice at the ballot box next year. Single-issue fashion voters will as well.